It's that time of year. Time to start thinking about holiday shopping. We know you want something unique, high quality, and something that doesn't feel like you grabbed it last-minute (even if you did!).
Don't worry; we've got you covered!
The vision behind American Forge South was to create a collection of home goods for quality-driven shoppers who enjoy the good life. Everything is solid steel and forged right here in our shop in Atlanta, Georgia. Everything is unpainted and unbreakable. We are making heirlooms that will serve our customers for generations. We want the gift you give today to be something that will never break or go out of style.
The Oyster Knife is the newest addition to the AFS collection. Inspired by summer evenings on the beach, the knife can be personalized with up to 3 initials and is the perfect gift for someone whose happy place is the shore.
The AFS Belt Buckle makes a statement. It's bold, heavy, and solid. Paired with a handmade leather belt, this piece will never go out of style because it was never "in" style. It's perfect for that person in your life with a big heart and a bigger personality.
The Matchbox is the right gift for a kitchen - or a cook! - that you love. A thoughtful gift for a mountain home, place at the lake, or beach cottage, it fits over a standard large size box of kitchen matches. The finish is brushed steel and the plate can be customized with up to 3 letters.
The Letter Opener is perfect for that person in your life who always sends hand-written notes and enjoys the ritual of correspondence. Crafted from a forged steel lag bolt, it's a beautiful desktop piece that makes even the mundane task of opening mail a little more special.
Stomping around outdoors is one of the pleasures of getting away from it all. But bringing the grit and mud inside the house? Not so much. The Boot Scraper can be bolted to the floor to live in your mudroom for years to come. A substantial 9"x 8"x 4", the boot scraper can be customized with any letter.
Totally unique Book Ends highlight their favorite volumes and add style to any bookshelf. These come in two designs - the Pistol and the Bolt - for the readers in your life.
We all know someone who prefers the company of their dogs over their people (maybe you're one?) so we created our Leash Hooks in a couple different styles. We make one with a paw print or an initial, and we make one that can be customized with up to five letters. A foolproof gift for any dog lover.
The Fire Pits we create are inspired by the great American tradition of sitting around the fire, chewing the fat, and solving all the problems of the day. The Smooth Fire Pit measures 24" x 13", is made from heavy gauge steel and has forged ring handles and a natural finish.
The Star Fire Pit is slightly larger at 31" x 16". A fire pit paired with the Oyster Knife could get you a permanent spot on the Oyster Roast invite list.
Our fire tools pair beautifully with either fire pit. Our basic Fire Poker is made of solid steel with a forked end and ring handle. Surface hand worked with rugged texture and natural finish. And then there's The Wrangler. The Wrangler is forged from 1/2" rebar and is for badasses only.
The Bottle Opener is where it all started. Our hand forged bottle opener is the perfect gift for everyone: solid, handmade, unbreakable, infinitely useful, and extremely personal. While we typically make them with a single cut initial, we have also created openers featuring custom designs. These make really unique gifts for groomsmen, fraternity brothers, coworkers, and friends. Scroll through the gallery!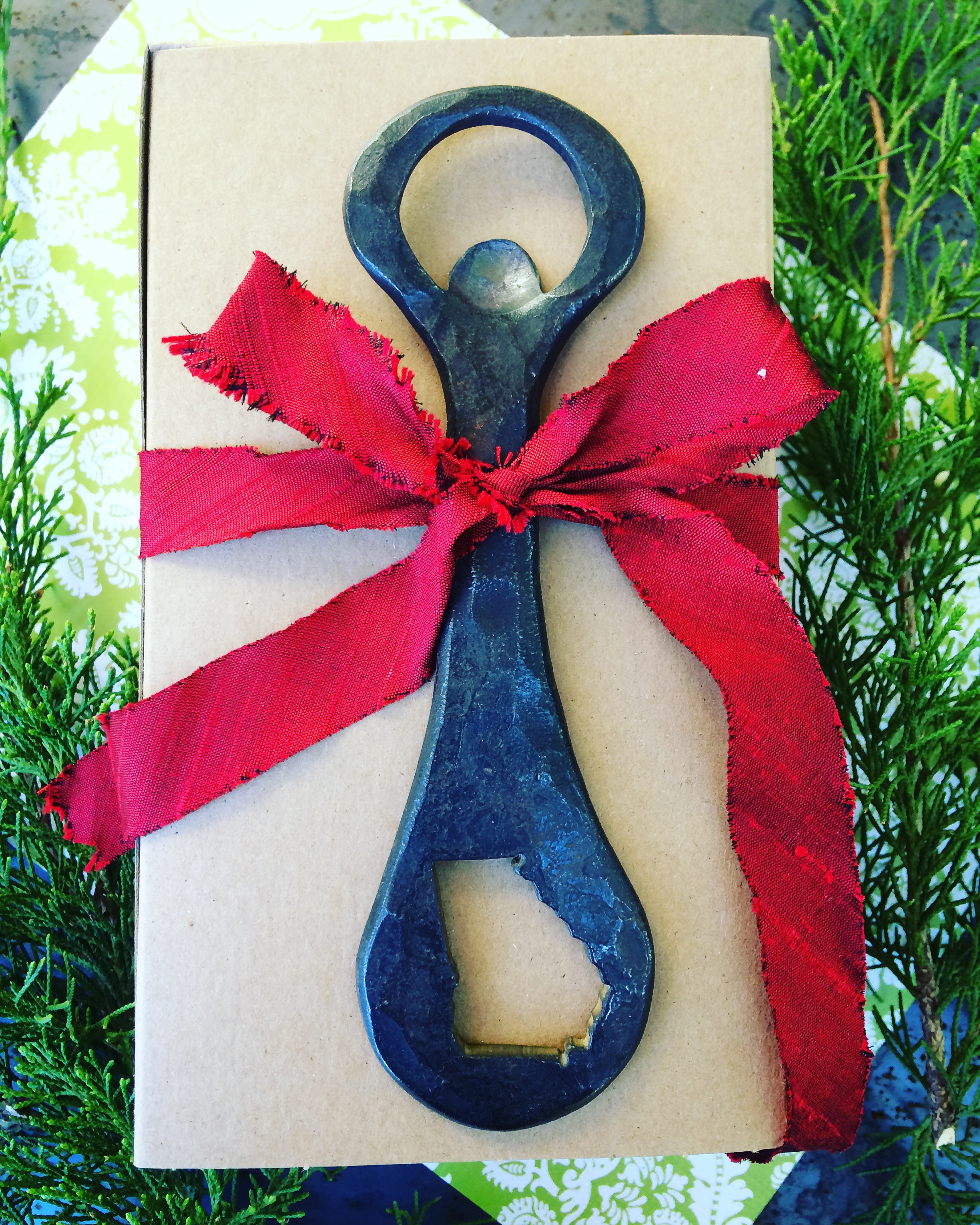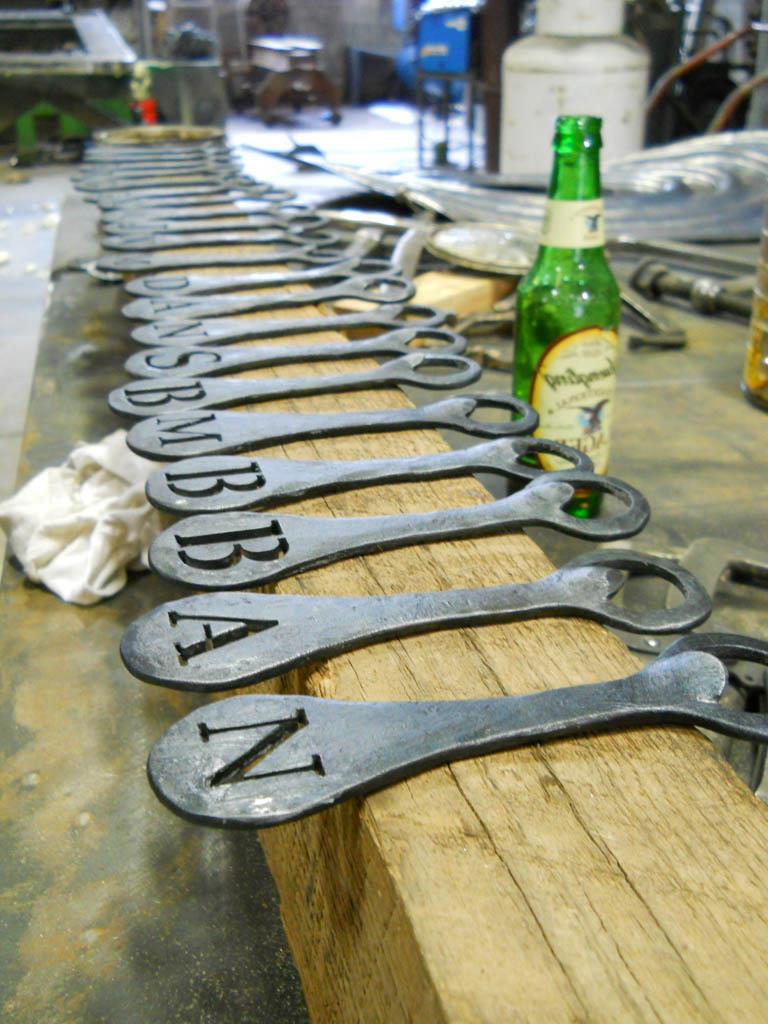 Give us a call at the Ironworks and let us help you choose just the right gift for everyone on your list!